Now that working from home is the new normal, using Microsoft Office Teams has become more prevalent. Tulus' Teams trainers Minna Kumpu and Siru Salminen share their practical tips for using the platform.
Tulus Academy offers Teams trainings for companies. We take care of the training arrangements and sending invitations to participants.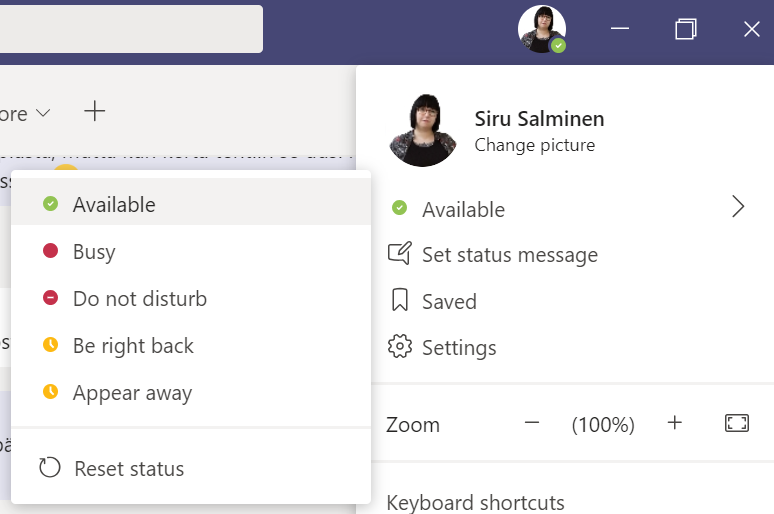 Let your team know when you're available
Teams allows you to share your availability with your colleagues using the traffic light system. Just click your profile photo and set your availability. This helps colleagues see at a glance whether you're available or whether they'd have to wait until you're done with a call or a meeting, for example. 
If you're in a Teams meeting or a conference call, Teams automatically flags you in "Busy" mode. You can also set your availability to "Do not disturb" mode. Unless a message is marked as urgent or you have given a colleague priority access, you will not receive any notifications from Teams. You will still get messages, but no notifications. Perfect for times you want to carve out time and really focus.
Stay on top of conversations by labe

l

ling chats
The chat feature is probably going to be the feature you use most in Teams. It almost makes up for not being in the same space as your colleagues.  
You can choose to have one-on-one or group conversations, and as in the office environment, the topics you talk about in a chat can vary throughout the day.  
To help you keep track of what's going on in chats, you can label conversations by clicking on the pen image next to the names of the people in a chat. Naming threads makes them easier to manage and lets you find conversations more easily if you need them later.  
A quick way to acknowledge messages you have received is to mark it with a "thumbs up."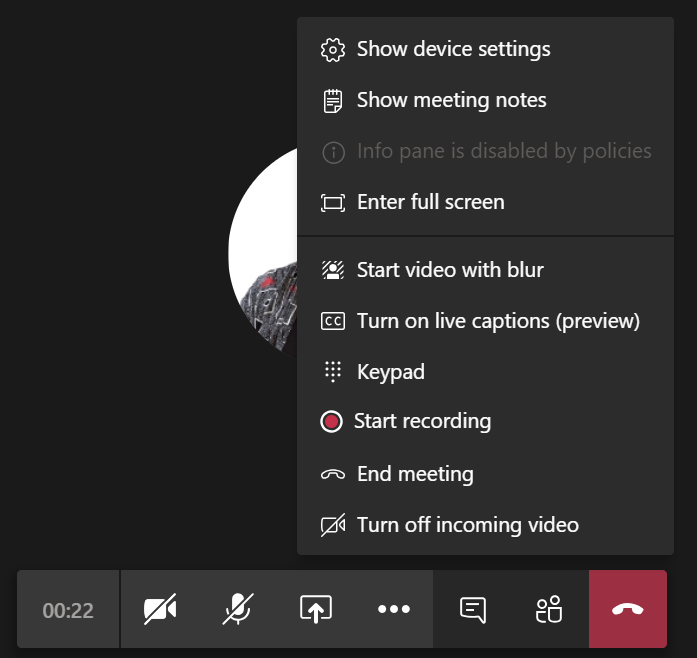 Record your meetings 

to get

 handy training materials
Teams meetings are easy to record. You can find the record function by clicking on the three dots on the bar at the bottom of the meeting window. 
Recording meetings is an easy way to provide materials that you can share with others later. If you hold trainings in Teams and record them, you'll be able to provide those same materials to train summer workers or new team members. 
Everything in its place
In Tulus, we have created channels to reporting absences and managing train tickets, among others. On the Train Tickets channel, each train user (rare at the moment!) marks the serial number of the ticket they use as well as the number of seats they have reserved. This makes it easy to see how many journeys are still available and when new tickets have to be bought. 
And pretty much as in office, not all conversation is about business. Our "Ripaus hömppää" channel shares tips for home fitness and other fun stuff. This week we started a coffee break meeting. If anyone needs a break from the silence of their home office and just wants to hang out for a bit with colleagues, they can hop on to the meeting and talk with other people there.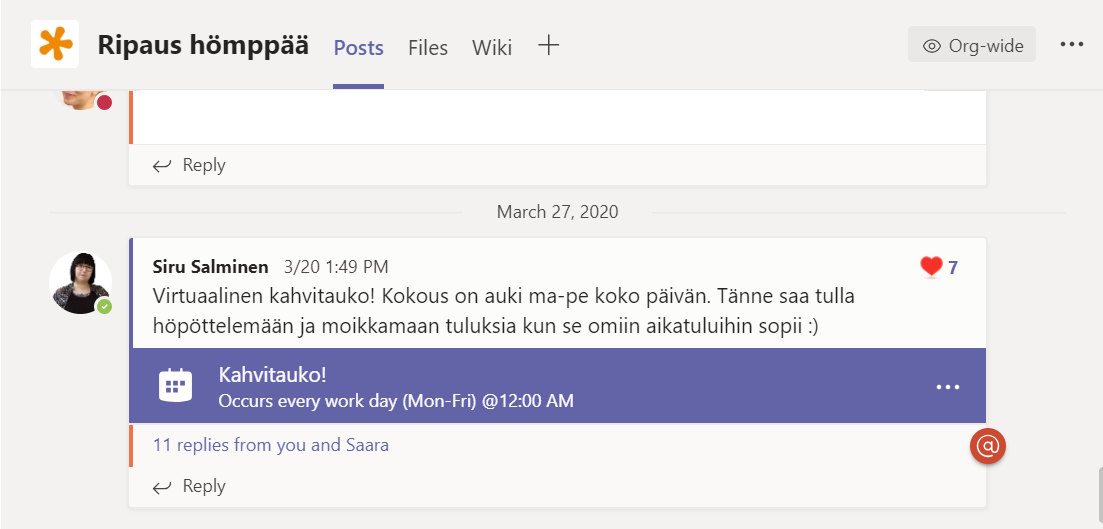 Do you need help?

 
Tulus Academy offers Teams trainings for companies. We take care of the training arrangements and sending invitations to participants. Each training session is for a maximum of 20 people.  
Price: from 250 € + VAT 24%. 
The training covers:  
Getting started with Teams, creating and managing teams and channels

 

File sharing and note-taking tools

 

Chats